BASSOLOGY is a swinging jazz band organized and directed by the bassologist, Dr. David Chevan. It's a group of players united by a love of exploring and interpreting the music of the era of the Great American Songbook.   The group plays a wide range of swinging music and they are especially adept at their interpretations of the works of the great songwriters including George Gershwin, Jerome Kern, Richard Rodgers, and Cole Porter.  They also highlight great songs by less well known composers including Bart Howard's "Fly Me to the Moon" and Johnny Mandel's " The Shadow of Your Smile". 

The bands repertoire also includes jazz infused arrangements of tunes by such artists as The Meters, Mongo Santamaria, and George Harrison. These worked incredibly well alongside Ron Bragg's smoky readings of classic jazz standards. And they work well now that Ron has left town and singers Atla DeChamplain and Danielle Valentin have begun singing with the group.

The band has two CDs and recently released an online live recording.

BASSOLOGY began playing together in 1996.  Back then they had a regular Friday night gig at the old Charlie B's in New Haven.  When Charlie B's changed owners they began playing every Saturday night at the Avon Old Farms Inn in Avon.  That lasted for a very long time (almost six years) till the Inn  closed.  Now the band gets together to share their special brand of jazz wherever and whenever it can playing in the New Haven area at restaurants including Solun Tapas, Mickey's and the recently closed Fornarelli's.  In Hartford the group has been heard at Black Eyed Sally's and The Press.

BASSOLOGY is like an algorithm with any number of great configurations.  The group includes:

David Chevan bass
Alvin Carter, Jr., Jesse Chevan, Jocelyn Pleasant, Tido Holtkamp, and Ron Braggs drums and voice (Ron has retired, but he's still swinging. Only instead of drum sticks now Ron's swinging golf clubs in Florida.)
Will Bartlett or Will Cleary saxophones and related wind instruments
Chris Casey, Warren Byrd, Isabella Mendes, Mike Carabello and Matt DeChamplain piano and keyboards
Atla DeChamplain and Danielle Valentin vocals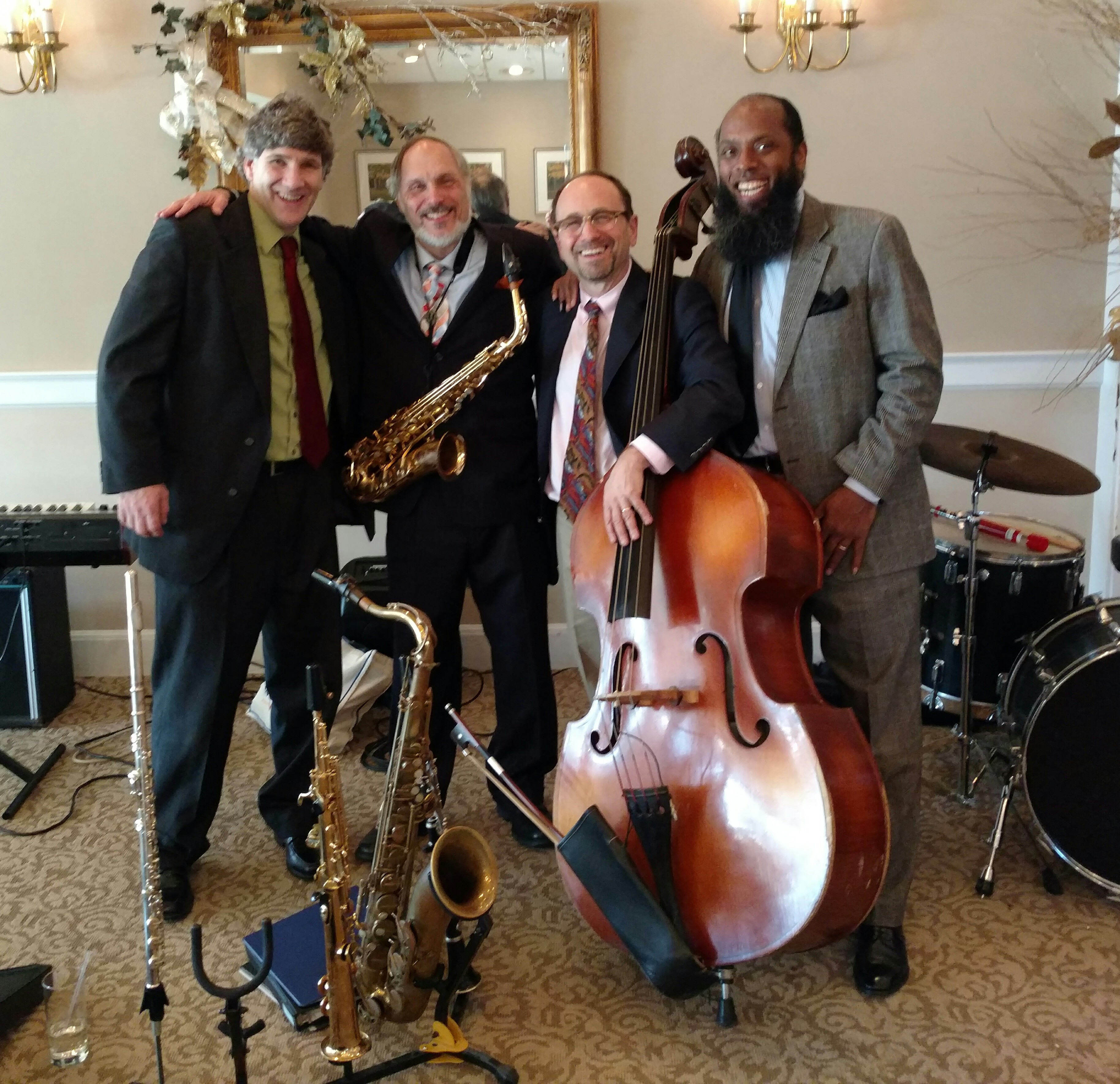 Bassology --2017 edition-- l to r: Chris Casey, Will Bartlett, David Chevan, Alvin Carter, Jr.
LISTEN TO OUR MUSIC

Bassology has recorded two CDs and recently released an online live recording, Live at Smokin' with Chris.  Live at Smokin' with Chris features vocalist Danielle Valentin singing a set of great jazz accompanied by Chris Casey on piano, Jocelyn Pleasant on drums and David Chevan on bass.
Our album, Imagination, features the vocal stylings of our drummer, Ron Braggs. Our first recording, The Feeling that I Get, features original pieces along with some choice covers.  Both albums are available for download right here.  And here's the best thing. Unlike other web sites that set a fee for our music you can set your price.  Pay us as much or as little as you wish.  All we ask is that you enjoy our music and spread the good word about Bassology.
 
---